WARNING! This book is designed for ADULTS only or may be unsuitable for people under 21 years of age due to sexual content, violence, and/or mature themes.
If you are easily offended, then this book may be not for you and please do not continue.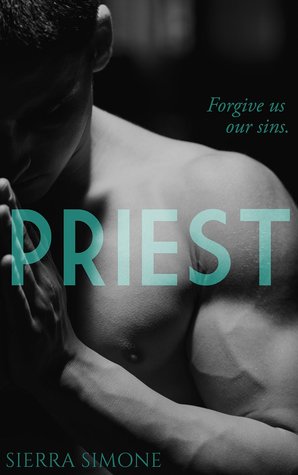 Priest by Sierra Simone
Series: Standalone
Release Date: June 29th 2015
Publisher: Self-published
Language: English
Print Length: 253 pages
Format: eARC
Genres: Erotica, Romance, Contemporary, Dark
Target Reader: Adult
There are many rules a priest can't break.
A priest cannot marry. A priest cannot abandon his flock. A priest cannot forsake his God.I've always been good at following rules.
Until she came.
My name is Tyler Anselm Bell. I'm twenty-nine years old. Six months ago, I broke my vow of celibacy on the altar of my own church, and God help me, I would do it again.
I am a priest and this is my confession.
***Priest is a standalone, full-length novel with an HEA.  For mature audiences only.***
Purchase Links: Amazon US • B&N • Kobo • iBooks
Paperback: Amazon US
---
REVIEW BY ELLE
Oh, how should I begin this? I love kinky especially when it's involve with dark and taboo romance. I'm so excited when I knew Priest is one of the most popular topic on my Facebook timeline. Since I read The Original Sinners by Tiffany Reisz, I can't found another author who can write about kinky priest. Yum! Priest is my first read from Sierra Simone. But, damn… Although, I got multiple orgasms from this book, I don't feel any sparks, like… at all (but kinky sex is awesome, LOL). I have to lower my expectations. Sigh.
Once upon a time, there is a priest name Tyler Ansem Bell or Father Bell. There is a mysterious woman who supposed to confessing and ask her penance instead being became Father Bell's biggest temptation. When the heroine; Poppy Danforth came with red lipstick and magnetizing voice, it's connecting to Father Bell's instant boner. Oops! Since his first meet with Poppy, Father Bell seems love cold shower more than twenty times in two days. So, after the many temptation and teasing that he couldn't avoid anymore, finally… BAM!
"God, I wanted to marry this woman
or collar her
or cage her;
I wanted to own her, make her, take her." ~Father Bell
It seems our priest here like to cuss a lot. Poppy's confessions more like reading a whole porno and give herself to silver platter in front of Father Bell's boner and drooling mouth. Despite everything Father Bell has done over his guilty and self-doubt, he's just a man who needs Poppy so much. Chapter after chapter is quickly turning them into fuck bunnies who in lust each other. I'll tell ya! There will be so many hot and kinky fuckery *cough*. It seems the church doesn't care and the problem doesn't intense beside all the secrecy Father Bell had made.
Argh! I hate insta-love. There is no chemistry and real emotion between them. Suddenly, Father Bell pronounce that he can't live without Poppy (or her pussy?). I found some positive things about Father Bell (sorry can't spoiler), but our lost lamb; Poppy? Nah. She just happened to be beautiful (in his eyes) with high sex drive, rich and well-educated but never want to be trophy wife so she ran away. She bored with her life and chose to be a stripper in a gentleman's club. Even she never have sex with her client, she desperately need to get laid. Wuut! There is one thing. Poppy like a stalker. She always appear everywhere our priest go. Uh huh…
"See? You need this. And I need this. I'll take you to every place I've ever been and let you fuck me there, so you can rewrite my history as your history, if you want." ~Poppy
Though, Poppy wanted to find something meaningful in her life, she just keep throwing her dirty confessions and lead them both into lusty damnation. Hey, don't get me wrong. Man is a man, right? So, the rest until end after 80% is so cliché. At the end, miscommunication is always the biggest problem. After months, everything seems so oh-kay because, obviously they can't keep each other hands… again *eye-rolling*
Overall, this book is well-written and somehow poetic so I kinda liked it. It felt new because the story told with man's POV; Father Bell. I never feel intimidate with the Catholic's background but I found it's interesting. I give two thumbs up for the major smut aspect. This is erotica, right? Hmm… there is no BDSM involve here but only dirty-taboo-kinky sex. I agree to the point that somehow it's hard to pull dark and forbidden romance into something sexy; not cheap and trashy 😉
If you don't mind about taboo romance involve dirty-as-sin priest with so many sex… you can read this book out. Not for the faint heart, of course.
ARC courtesy of author, via Sassy Savvy Fabulous PR, in exchange for an honest review
Overall Rating
SEXOMETER