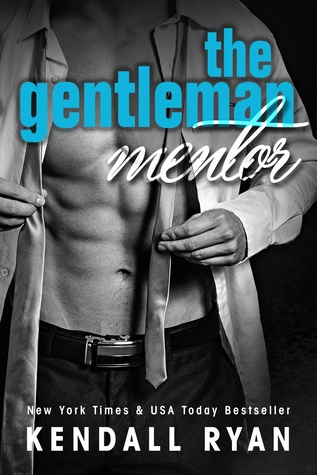 The Gentleman Mentor by Kendall Ryan
Series: Lessons with the Dom #1
Release Date: May 5th 2015
Publisher: Self-published
Language: English
Print Length: 364 pages
Format: eBook
Genres: Erotica, Romance, Contemporary, BDSM
Target Reader: Adult
He calls himself the Gentleman Mentor.Just reading his ad makes me feel more alive than I have in years.
He promises to teach me the art of seduction … and show me the most sinfully erotic pleasures. He's going to help me become the kind of confident, sexy woman men can't ignore.
Six lessons … with the most gorgeous man … who happens to be a Dom.
The only problem … now that I've experienced his brand of delectable domination will anyone else ever compare?
She's a client. That's all.
Or it should be.
But with every lesson, she's becoming more.
The secrets I'm hiding behind the image of the Gentleman Mentor make telling her the truth—and having anything real—impossible.
I'm training her for another man, and that fact guts me every time I think of it.
I know she's not mine … but part of me won't accept that.
Am I willing to risk it all to keep her?

Purchase Links: Amazon US • B&N • Kobo • iBooks
Paperback: Amazon US • Book Depository
---
REVIEW BY ELLE
I was seriously intrigued by this book. This is my first time read Kendall Ryan's books. I can't resist BDSM themes and i found the title made me wet but in the end, it didn't work for me. Brielle wants to explore her sexual experience with contact thedominantgentleman, Hale. She has secretly in love with her friend, Kirby for five years and she doesn't have confidence for herself. Hale help her with BDSM lifestyle and the experience into submission to turns her into desirable woman.
"Nothing he says shocks me anymore. I've grown to love his filthy mouth, and my body lights up like a Christmas tree at his words. Despite my powerful release, I'm wet and hungry for more."
The relationship between Brielle and Hale seems too rush in the end. I don't feel the chemistry between them. There is no significant development between the characters. Suddenly, they fell in love each other didn't make sense for me because he's being a gentleman. Melted? yes, Love? I don't think so.

Brielle: "Do you always carry a vibrator around in your suit jacket?"
Hale: "When I'm working with bad little girls who need to be fucked? Yes."
Overall, the story is beyond too romantic for me. I don't expect it to be this sweet. I can guess where it will leads because everything seems so safe and sound. There is just a little twist in the end. The dirty talk, bdsm, and sex is like 'scripted' without chemistry. I can still recommend The Gentleman Mentor for people who like light BDSM with rainbow and unicorn.
Overall Rating
SEXOMETER