*** WARNING! This book is for ADULTS only or may be unsuitable for people under 21 years of age due to sexual content, graphic violence, and/or mature themes. Reader discretion is highly advised. If you are easily offended, then this book is not for you and please do not continue. ***
Wrath by L.P. Lovell, Stevie J. Cole
Series: Wrong #2
Release Date: August 25th 2015
Publisher: Self-published
Language: English
Print Length: 234 pages
Genres:  Contemporary, Romance, Dark
Target Reader: Adult
Tor
Jude Pearson could just as well kill me as kiss me most days. He was my captor, my living hell, and yet, he became my saviour, my heart. Stupid. He's heartless, conditioned to feel nothing, and so I ran… straight into the clutches of his enemy. Joe Campbell wants Jude to suffer, and I just became a pawn in a very dangerous game.
Joe has broken me in every way, everything that I once was stripped away, and in its place is festering hatred and a rage so cold I feel nothing else. I have one purpose. Revenge.
Jude
Love makes you weak; it makes you irrational. She was collateral, completely innocent when she was unwillingly dragged into my corrupt world. With the damage I'd already caused her, I couldn't let her love me, so I let her go, and now…he has her.
No matter where she is, she will always be mine. This man has taken every-fucking-thing from me, and he has the last thing that matters to me. I will kill him. Slowly. Joe Campbell better run because the devil is fucking coming for him.
Sometimes two wrongs can make a right.
Rage.
Hate.
Revenge.
Our Wrath binds us, but it may also break us.
---
Review by Alexa
Wrong had caused my hangover over months. Tor and Jude made a wrong decision that makes them trapped in a serious problem. Tor's desire to run away from Jude deliver her directly into the hands of the villain, Joe. If you think Wrong has really dark aura, trust me… you will think twice after you read this book. Wrath has the most intense dark aura, raw, wild and full of violence. This story was written brilliantly by two author. It well blended with two interesting POV between h/h. Wrath comes with real conflict, full of suspense, romance with hot intensity, full of dark twist, and a splash of humor. The storyline is wrapped in fast pace that ensures our eyes remain captivated since the first chapter.
He cups my face, his thumbs stroking over my jaw line. My eyes lock with his. "You'll fucking kill me, woman." He leans down and presses his lips to mine gently. "You don't listen worth a shit."
I smile at his southern twang. "Of course not," I whisper.
"You were fucking made for me, huh?"
"Who else would put up with you?"
Jude grins as he grabs my hair and yanks my head back. "I wouldn't want anyone else to."
I loved the interaction between Tor and Jude. Well-balanced and completing each other. They're growing strong with everything happened to them. When trouble comes, they're trusting and treating each other's feeling. The relationship between Tor and Jude always interesting and never boring. They love each other but their characters are equally consistent until the end. It's clearly there romance isn't magical and no insta-love.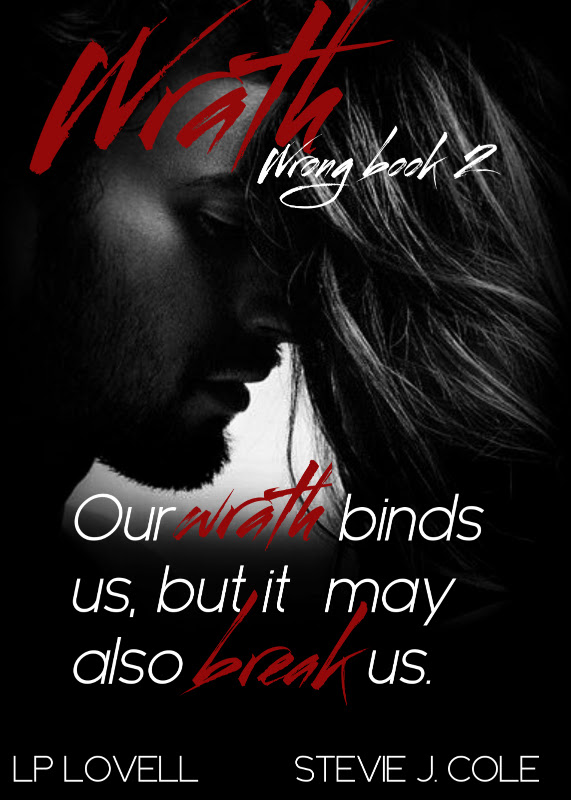 Tor is a kickass girl like a phoenix. She could be broken and destroyed many times but she is always rise and grow stronger than before. This heroine has special place in my heart. I respect her since first appearance. Jude isn't the usual typical of hero. He's savage and possessive. Clearly, he isn't prince charming comes with flower and poem, but he is dark warrior with bloody armor. He tried hard to bury all his wounds to protect the people he loves.
After all the problem they've faced, they deserve a happily ever after, right? But until the last chapter, LP Lovell and Stevie J Cole still take me on the rollercoaster ride with full of suspense about their fate. Will Tor and Jude get their HEA? You should read by yourself and enjoying Wrath as much as i am. I'm fucking love this series.
ARC courtesy of author in exchange for an honest review
Overall Rating
SEXOMETER
---
❤ WRONG SERIES ❤

#1 Wrong: My Review • Amazon US • Amazon UK • Amazon CA • Amazon AU • B&N
#2 Wrath: Amazon US • Amazon UK • Amazon CA • Amazon AU
ABOUT LP LOVELL
Lauren Lovell is an indie author from England. She suffers from a total lack of brain to mouth filter and is the friend you have to explain before you introduce her to anyone, and apologise for afterwards.
She's a self-confessed shameless pervert, who may be suffering from slight peen envy.
Website • Facebook • Twitter • Goodreads
ABOUT STEVIE J. COLE
Stevie J. Cole is a secret rock star. Sex, drugs and, oh wait, no, just sex. She's a whore for a British accent and has an unhealthy obsession with Russell Brand. She and LP plan to elope in Vegas and breed the world's most epic child.
GIVEAWAY
($20 AMAZON GIFT CARD)