*** WARNING! This book is for ADULTS only or may be unsuitable for people under 21 years of age due to sexual content, graphic violence, and/or mature themes. Reader discretion is highly advised. If you are easily offended, then this book is not for you and please do not continue. ***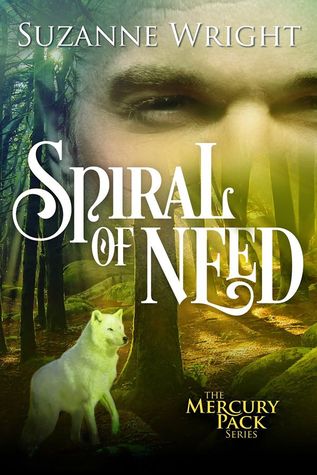 Spiral of Need by Suzanne Wright
Series: The Mercury Pack #1
Published: September 29th 2015 by Montlake Romance
Language: English
Print Length: 309 pages
Genres: Paranormal, Romance, Erotica
Target Reader: Adult
Ebook: Amazon US
Paperback: Amazon US • Book Depository
Ally Marshall isn't just a wolf shifter — she's a Seer.
But a girl doesn't exactly need special powers to know that Derren Hudson despises her entire kind. Disdain practically rolls off the Beta of the Mercury Pack . . . disdain mixed with a healthy dose of desire. And no matter how much the ruggedly handsome male appeals to her, this is one call of the wild she's determined to ignore.
After one betrayal too many, Derren doesn't have much use for Seers — except for Ally.
Forced into acting as her protector, he finds himself intensely and passionately drawn to the woman who incites his primal instinct to claim.
And when enemies target the pack, Ally's gift may be just what the Mercury Pack needs.
Can he put his distrust aside, or will he force himself to turn his back on the one woman who makes his inner beast howl?
---
REVIEW BY ALEXA
Sejak mengenal serial shifter Phoenix Pack milik Suzanne Wright, tiap buku barunya terbit langsung masuk ke shortlist wajib bacaku. Walau aku sedikit bete awalnya karena dibuat serial shifter baru sebelum Phoenix pack tamat, tapi memenangkan buku pertama Mercuri Pack dari giveaway sebelum buku ini diterbitkan bisa sedikit mencerahkan badmoodku. Well.. it is not your fault, it's me.. itu mungkin kalimat yang tepat untuk menggambarkan perasaanku. Kisah ini sama sekali tidak buruk. Ditulis dengan sangat rapi, storyline rumit dengan beberapa twist kejutan yang menegangkan, karakter-karakter yang super menarik, percakapan sarkastik super cerdas dan porsi besar tawa dan eyegarsm dari sebuah buku paranorm. Aku seharusnya merasa puas dengan buku ini, tapi aku mengharapkan lebih.
* Buku ini belum bisa mengalahkan pesona, kekuatan, dan intensitas dari buku 1-2. Saat kau sudah pernah membaca kisah paranorm yang begitu cetar, seksi, hot, membuatmu ngakak gelindingan dan hangover berhari-hari, kau akan mengharapkan buku lanjutan dengan feel yang sama atau lebih.
* Ally adalah Seer, semacam shifter super yang punya kemampuan lebih. Dia juga diasingkan oleh pack lamanya dan menjadi obyek kecemburuan pasangan beta yg tidak percaya diri. Ketika dia dititipkan ke pack Derren, itu bisa dibilang cobaan karena pria itu (dan sebagian anggota packnya) punya trauma terhadap Seer di masa lalu. Karakter Ally kuat, kickass dan punya sense humor sarkastik hebat. Dia tampil kalem dan cuek ala Roni tapi juga punya sisi smart snappy ala Taryn. Ini membuat Derren jadi tampil lebih redup diluar spotlight Ally.
* Derren muncul di buku 3-4 series Phoenix. Dia adalah Beta di pack baru milik Nick. Biarpun dia ogah-ogahan menerima jabatannya, dia terlalu setia pada Nick untuk tidak mendukungnya. Derren adalah dominan wolf tipe koyo yang sangat keras kepala, loyal, punya mulut kotor dan sulit untuk ditolak. Dia selalu bisa memperjuangkan segala hal yang dia inginkan dengan kekuatan tekadny. Dia sudah pasti tidak se "halus" Nick dan Marcus. Tapi aku mengharapkan dia sebagai wolf dominan yang tidak standar. Tidak cuma tampil overprotektif ala manusia gua atau sebatas dominan diatas ranjang. Atau dalam kasus ini : dilantai dapur, di kamar, di kamar mandi, di atas meja, di atas rumput-rumput yg tak mampu bergoyang lagi saking shocknya.
"Understand this, Ally. There is very little I consider an obstacle when I want something. And when I want something as badly as I want you, I won't let anything or anyone keep me from it. I marked you, and I don't consider that a small thing. Do you?"
* Alur cerita ini lambat di awal 30-40, dan terlalu berfokus pada konflik internal h/h bahkan para figurannya. Ini membuat chemisty dan interaksi pendekatan h/h tidak maksimal digali, seperti diburu dan dipaksakan. Tidak ada proses tarik ulur penuh sensasi, atau banter peningkat tensi dan kejar-kejaranan dramatis. Semua berjalan mulus dan lancar karena Ally lumer sejak ciuman pertama.
* Kisah ini tidak menawarkan formula storyline yang baru. Beberapa scene tampak senada dengan buku sebelumnya, terlalu pas dan banyak serba kebetulan. Momen serba pas-pas ini membuatku tidak bisa mempercayai hubungan mereka bisa terbentuk sekilat ini. Konfliknya juga lebih besar berfokus pada pasangan lain sehingga seolah-olah seperti sedang membaca lanjutan buku Roni Marcus.
Jadi ini adalah bacaan menyenangkan yang bisa mengobati kerinduanku pada serial shifter tulisan Ms Wright. Tapi ini tidak sampai membuatku shock dan mengigiti bantal seperti saat membaca buku Taryn-Trey, atau sesenggrukan berurai air mata seperti buku Dante -Jamie. Buku ini jelas tidak bisa dibaca sebagai standalone dan sudah pasti diperuntukan untuk fans seri ini karena pembaca baru akan bingung dengan semua detail background, nama figuran dan karakternya yang begitu banyak jika belum membaca 4 buku sebelumnya.
OVERALL RATING
SEX-O-METER