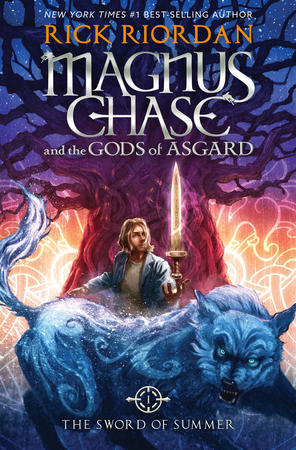 Magnus Chase and the Gods of Asgard, Book 1: The Sword of Summer by Rick Riordan
Series: Magnus Chase and the Gods of Asgard #1
Published: October 6th 2015 by Disney Hyperion
Language: English
Print Length: 512 pages
Genres: Fantasy, Mythology
Target Reader: Young Adult
Ebook: Amazon US • B&N • Kobo • iBooks
Paperback: Periplus
Magnus Chase has always been a troubled kid. Since his mother's mysterious death, he's lived alone on the streets of Boston, surviving by his wits, keeping one step ahead of the police and the truant officers.
One day, he's tracked down by a man he's never met—a man his mother claimed was dangerous. The man tells him an impossible secret: Magnus is the son of a Norse god.
The Viking myths are true. The gods of Asgard are preparing for war. Trolls, giants and worse monsters are stirring for doomsday. To prevent Ragnarok, Magnus must search the Nine Worlds for a weapon that has been lost for thousands of years.
When an attack by fire giants forces him to choose between his own safety and the lives of hundreds of innocents, Magnus makes a fatal decision.
Sometimes, the only way to start a new life is to die . . .
---
REVIEW BY ALEXA
Setelah setahun menunggu, akhirnya Rick Riordan melahirkan hero dengan nuansa Viking yang sama sekali berbeda dengan Percy Jackson. Si hero baru, Magnus Chase adalah tunawisma remaja 16 thn dan mati seketika di 2 chapter awal buku perdananya. OMG.. cuma Rick yang bisa membuatku melekat di buku setebal batu bata, semalam suntuk, sejak chapter-chapter pertamanya.
Aku cukup berjuang untuk melalui 30 persen awal buku ini yang beralur lambat dan penuh dengan informasi dan istilah Norse. Kalau otakku saja nyaris lumer dengan bombardir informasi ini, aku tak bisa membayangkan bagaimana nasibku kalau ada di posisi Magnus. Cuma minat besar pada mitologi Norse, kecintaan dan kepercayaanku pada Rick yang membuatku selamat melewatinya. So far, setelah melewati bagian serius sisanya lebih gampang untuk dicerna. Petualangan Magnus makin seru dan makin kocak setelah melewati 50 persen bagian awal. Humor sarkastik dan scene-scene kocak penuh kejutan dijamin membuatmu ngikik tanpa henti.
Hero's bravery has to be unplanned- a genuine response to a crisis. It had to come from the heart, without any thought of reward. ~Samirah
Dengan tampilan gondrong, karakter realistis, cuek dan tidak gampang percayaan, Magnus selalu punya komentar rasional dan sarkastis untuk semua fenomena gaib yang dialaminya. Magnus chase yang digambarkan bukan tipe petarung, karakternya masih menyisakan banyak ruang untuk berkembang. Di banding dengan beberapa karakter pendukungnya, Magnus masih bisa digali lebih dalam. Buku ini juga memberikan karakter pendukung seperti dwarf yang punya selera fashion, Valkriye berhijab dan penyihir yang hobby semaput serta figuran-figuran antik lainnya yang punya latar belakang yang menyentuh dan style super kocak.
Our choices can alter the details. That's how we rebel agains destiny. ~Loki
Beberapa dewa dewi Norse yang muncul disini melemparkan berbagai ujian untuk Magnus, memang baru sedikit tapi mereka tetap tampil dengan karakteristik unik khas Rick. Freya yang shopaholic, Ran yang kolektor kelas berat, Frey yang se-ganteng Chris Hemsworth, dan jangan lupakan Mimir, Thor dan Odin yang tidak akan kuspoiler hohohoho..
Seperti buku Rick lainnya, buku ini juga berisi tentang beberapa misi kecil dan 1 misi besar yang kompleks. Beberapa misi mengajarkan kita pentingnya menjaga keseimbangan antara kekuatan otak dan otot. Kadang kala banyak problem bisa diselesaikan dengan sedikit berpikir. Buku ini juga menberikan pelajaran tentang pentingnya team work dan kesetia kawanan dimana perbedaan adalah kekuatan yang menguatkan team.
Buku ini menawarkan paket lengkap hero dan karakter pendukung yang menarik, petualangan penuh aksi seru, scene-scene penuh kejutan, humor sarkastik dalam porsi besar dan pelajaran mitologi 101 Norse yang disajikan dengan cara yang menarik. Tapi sebagaimana umumnya buku pertama dalam seri, cerita ini masih penuh perkenalan dan penggambaran setting dunia baru. Buku ini adalah awal yang bagus, tapi bagiku masih terasa bak foreplay untuk kisah yang lebih epik di buku-buku selanjutnya.
OVERALL RATING