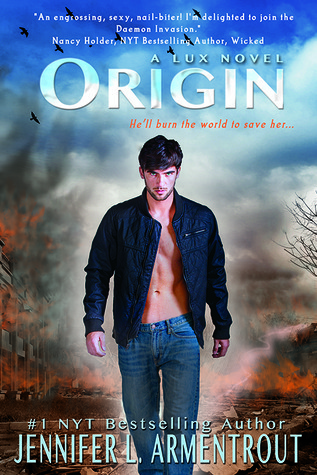 Origin by Jennifer L. Armentrout
Series: Lux #4
Release Date: August 27th 2013 by Entangled Teen
Language: English
Print Length: 234 pages
Genres: Fantasy, Romance, Paranormal
Target Reader: Young Adult
Ebook: Amazon US • B&N • Kobo • iBooks
Paperback: Amazon US • Book Depository • Periplus
Daemon will do anything to get Katy back.
After the successful but disastrous raid on Mount Weather, he's facing the impossible. Katy is gone. Taken. Everything becomes about finding her. Taking out anyone who stands in his way? Done. Burning down the whole world to save her? Gladly. Exposing his alien race to the world? With pleasure.
All Katy can do is survive.
Surrounded by enemies, the only way she can come out of this is to adapt. After all, there are sides of Daedalus that don't seem entirely crazy, but the group's goals are frightening and the truths they speak even more disturbing. Who are the real bad guys? Daedalus? Mankind? Or the Luxen?
Together, they can face anything.
But the most dangerous foe has been there all along, and when the truths are exposed and the lies come crumbling down, which side will Daemon and Katy be standing on?
And will they even be together?
---
REVIEW BY ALEXA
Kuakui Daemon Black memancing munculnya jiwa fansgirlku. Dan percayalah saat ini aku berusaha keras untuk tidak bersikap memalukan dengan jejeritan histeris untuk cowok petromak itu.
Setelah ending cliffhanger dan alur lelet di Opal, Origin memberikan suntikan semangat baru. Buku ini memberikan aksi, intensitas dan banyak sekali kejutan. Kuakui dibuku ini Jen Armentrout berusaha memanjakan para penggemar seri Lux dengan memberikan porsi ekstra untuk semua sisi. Mau tahu apa saja?
Banter yang fun dan nakal untuk diikuti dari awal sampai akhir.


"I want to get to know every freckle and every curve on a personal level."
"I think you did that last night."
"Nah." He shook his head. "That was just a meet and greet. I want to know their hopes and dreams."

Quote-quote cetar yang akan membuat organ dalammu lumer bak air kobokan dibaskom.


"So I was thinking, there're eighty-six thousand, four hundred seconds in a day, right? There're one thousand, four hundred and forty minutes in a day…There're one hundred and sixty-eight hours in a week. Around eighty-seven hundred and then some hours in a year, and you know what?…I want to spend every second, every minute, every hour with you…I want a year's worth of seconds and minutes with you. I want a decade's worth of hours, so many that I can't add them up."

Tersibaknya misteri besar di balik fasilitas Daedalus yang OMG sangat mengerikan.
Scene romantis super seksi dan scene steamy super HOT yang menurutku terlalu panas untuk dimasukan ke genre YA. Seri ini sudah kunobatkan sebagai YA termesum tahun ini ho ho ho.. pastikan membaca dengan bimbingan orang tua.
Chemistry dan bonding h/h super intens dan tidak usah dipertanyakan lagi panasnya. Dunia milik berdua, yang lain tampak invisible.
Munculnya karakter-karakter baru yang menarik dan membuat penasaran.


"As close as you're riding me, man, I feel like I need to take you out to dinner or something. At least, I should get your name." He punched in a floor number, smirking.
"People call me Archer."

Twist-twist yang penuh kejutan yang tidak akan kuspoiler sampai kapanpun.
Aku membacanya sekitar 5 bulan lalu dan aku berjanji akan memberikan review yang lebih lengkap saat reread nanti. Yeah, ini jelas buku super cute yang rela kubaca ulang.
OVERALL RATING
SEX-O-METER