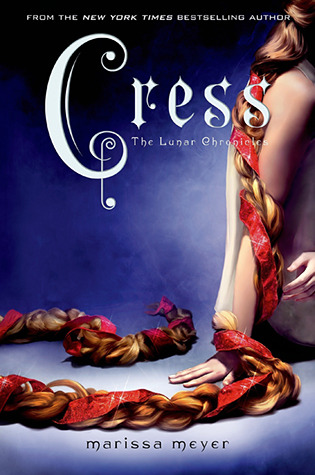 Cress by Marissa Meyer
Series: The Lunar Chronicles #3
Release Date: February 4th 2014 by Feiwel & Friends
Language: English
Print Length: 512 pages
Genres: Fantasy, Romance, Fairy Tales, Dystopia
Target Reader: Young Adult/Teen
Ebook: Amazon US • B&N • Kobo • iBooks
Int. Paperback: Amazon US • Book Depository
Indonesia: Periplus (Paperback/Hardcover)
In this third book in the Lunar Chronicles, Cinder and Captain Thorne are fugitives on the run, now with Scarlet and Wolf in tow. Together, they're plotting to overthrow Queen Levana and her army.
Their best hope lies with Cress, a girl imprisoned on a satellite since childhood who's only ever had her netscreens as company. All that screen time has made Cress an excellent hacker. Unfortunately, she's just received orders from Levana to track down Cinder and her handsome accomplice.
When a daring rescue of Cress goes awry, the group is separated. Cress finally has her freedom, but it comes at a high price. Meanwhile, Queen Levana will let nothing prevent her marriage to Emperor Kai. Cress, Scarlet, and Cinder may not have signed up to save the world, but they may be the only hope the world has.
---
REVIEW BY ELLE
Yay!!! Rapunzel is my other fave fairy tale (not Disney version). Cress is book #3 from Luna Chronicles and her story based on Rapunzel. We could see a glimpse of her story from Cinder and Scarlet. And the fact that Cress is the one who helping Cinder all this time. Too bad, Cress didn't meet my expectation to be more entertaining than the previous series. There were some pros cons when I finished Cress.
"Captain?"
"Yeah?"
"Do you think it was destiny that brought us together?"
He squinted and, after a thoughtful moment, shook his head. "No. I'm pretty sure it was Cinder." ~Cress to Throne
What I liked:
Cress has some consistency on her character. A genius and brilliant hacker. She is the one who protect Cinder group all this long. She's shy and sweet but not introvert because she was never socialized with another person beside Sybil Mira. Unfortunately, I'm not impressed with Cress beside her amazing skill. Cress is too naive and helpless. It's quite hard to find some positive thing about her. I feel that she's more like cameo on her own book than main character which is always Cinder. She has some potential to be explore.
Thorne… is being Thorne itself. He always the spices for this gloomy group which is I found he's very interesting character. And he's not useless. He's the one who makes sense better than Cinder. (Thanks for Chris Pratt being my imagination). My kind of prince charming! *swoon*
The bad one is more evil than before. It took a while to process that part because I'm very sure this book is for YA, right? So, I don't have any critic for the bad guys. They're just so evillll… 😀
The father and daughter moment even just for a while. It should be longer but… Ugh, my feels. I could taste tears.
"Maybe there isn't such a thing as fate. Maybe it's just the opportunities we're given, and what we do with them. I'm beginning to think that maybe great, epic romances don't just happen. We have to make them ourselves."

What I didn't like:
The story is more boring than Scarlet. It's too descriptive with everything and so much unnecessary event (e.g the desert part!). That's why i had to drag my ass to finished this. Sigh.
I would love to read more Cress and Thorne. They have potential but apparently, it was cut down just like Scarlet and Wolf. I thought this book is about Cress?
Sometimes… Just sometimes, I feel he's like a pedophile towards Cress. Just saying. LMAO. Maybe, Cress is too innocent and… childish? She's lack of affection and seeing Thorne save her like 'Prince Charming'.
We will see Jacin; the royal guard who claimed that has been controlled and now, he decided to help Cinder… which is not interesting. He still in grey area.
There is no adventure which give me no adrenaline rush. Just liked bedtime story for children. And The ending is a bit anti-climatic. Argh.
Most of the characters didn't develop very well. They're just… plain, especially Kai. He couldn't do anything, for god's sake! He's a prince but he never have military education? Or self-defense? #facepalm
Cress didn't impress me and somehow boring. It's too often changing chapter before I could process it. I was glad to found that Winter is going to be the last book. I couldn't handle more 'cameo' because apparently, Cinder is the main point/character in this entire books (Is it because she's Princess Selene?). It seems the whole group is rather useless even some of them has special skill but there is no improvement. At all. I didn't really enjoy Cress because this is the weakest story. Like I said, there are so many unimportant things mentioned. That's why I need Winter asap to wrap this quickly.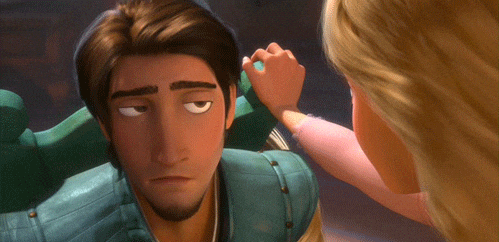 OVERALL RATING