Scarlet by Marissa Meyer
Series: The Lunar Chronicles #2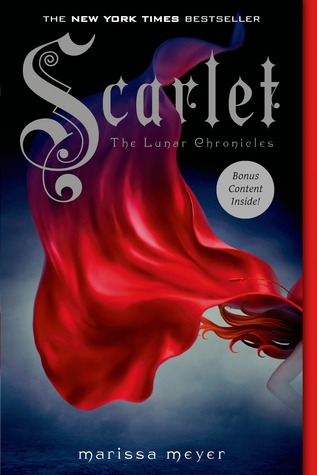 Release Date: February 5th 2013 by Feiwel & Friends
Language: English
Print Length: 400 pages
Genres: Fantasy, Romance, Fairy Tales, Dystopia
Target Reader: Young Adult/Teen
Ebook: Amazon US • B&N • Kobo • iBooks
Int. Paperback: Amazon US • Book Depository
Indonesia: Periplus (Paperback/Hardcover)
Cinder, the cyborg mechanic, returns in the second thrilling installment of the bestselling Lunar Chronicles. She's trying to break out of prison–even though if she succeeds, she'll be the Commonwealth's most wanted fugitive.
Halfway around the world, Scarlet Benoit's grandmother is missing. It turns out there are many things Scarlet doesn't know about her grandmother or the grave danger she has lived in her whole life. When Scarlet encounters Wolf, a street fighter who may have information as to her grandmother's whereabouts, she is loath to trust this stranger, but is inexplicably drawn to him, and he to her. As Scarlet and Wolf unravel one mystery, they encounter another when they meet Cinder. Now, all of them must stay one step ahead of the vicious Lunar Queen Levana, who will do anything for the handsome Prince Kai to become her husband, her king, her prisoner.
---
REVIEW BY ELLE
Once upon a time… there is girl who always wear a red hood went to search for her missing grandmother, but in the journey she met a big bad wolf. It turns out the wolf isn't that bad. He's only a big guy with piercing green eyes. Wohooo… This is definitely one of my fave fairy tales. Scarlet is book #2 from Lunar Chronicles and retelling Little Red Riding Hood story. As i mentioned in my previous review that Marissa Meyer succeeded capture my interest. I'm giddy to reading this asap after i finished Cinder and I have high expectation that Scarlet is better than Cinder. To be honest, i'm quite disappointed because it wasn't as I imagined. There is plus minus in some characters and story.
What I liked:
Scarlet; red riding hood. 18 yo hot headed, rebellious and brave girl. She's very independent and strong willed.
Wolf isn't his real name. He has the mysterious bad boy aura around him. Dark ruffled hair and green eyes. Yeah, definitely HOT. He isn't shy type but maybe only not good at socializing. He hold my interest for a while.
More secret will be reveal and we will have more to see about Cinder's originality. Who is helping her? How could she became cyborg? What's wrong with her lost memory? Well, your answer in Scarlet.
There is some shocking and a little terrifying moment (maybe for YA?). Yay, there is more adventure, new villain, and less whining.
I really really like THORNE! Omg… he exactly looks like Chris Pratt (from The Guardian of Galaxy) in my imagination. Cocky and easy going. *heavy sigh*
Iko. No words for her. I still adore her and now she is a space ship? No kiddin'!
"We met less than a week ago and in that time I've done nothing but lie and cheat and betray you. I know. But if you give me a chance…all I want is to protect you. To be near you. For as long as I'm able." ―Wolf to Scarlet
What I didn't like:
 I liked Scarlet but can't loved her. Like the original story, she seems too easy to trust new people. She's less mature than Cinder, though.
Wolf isn't scary enough. He supposed to be raw and dangerous. Wolf is like a puppy here 😦 For stars, he's an ALPHA but he's not strong enough to handle it. I don't know the story behind Wolf and it left me with so many questions.
Kai is useless as always. No creativity and power behind his title. He's no different from my Cinder's review. Bleh. His character didn't any make significant progress.
Cinder is still in denial for her role as a Lunar Princess. Dejavu with another story with the same denial. I want her to be strong and not sloppy. I wanna see her growing up but I think it's a little too much to ask for now. Sigh. (I need to remind myself because this is YA). Dr. Erland is the only one who can help her now but she turns into another 'direction' which is failed.
I need some kick-ass moment. Nope. It's not happen on this book either.
Please… I need Scarlet and Wolf moment. They have some potential to be develop. It's just weird because suddenly there is insta-love without right moment and bonding time. This story supposed to be more focus about Scarlet and Wolf.
Overall, Scarlet is less good than Cinder. I had hope that this could be surpass Cinder but apparently, nope. Scarlet has interesting story and held my interest but not until the end. There is too unpredictable and everything looks too easy. Slower pace than Cinder that almost made me skip every boring part. I liked Scarlet but not enough to love it. Still an enjoyable read because I love Red Riding Hood story. I still want to continue this series. Marissa has to unlock the potential to be more 'challenging'. Once again, I hope Cress meet my expectation. Pretty please… for Cress.
OVERALL RATING