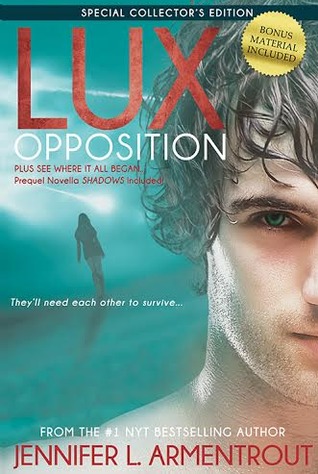 Opposition by Jennifer L. Armentrout
Series: Lux #5
Release Date: August 5th 2014 by Entangled Teen
Language: English
Print Length: 352 pages
Genres:  Fantasy, Romance, Paranormal
Target Reader: Young Adult
Ebook: Amazon US • B&N • Kobo • iBooks
Paperback: Amazon US • Book Depository • Periplus
Katy knows the world changed the night the Luxen came.
She can't believe Daemon welcomed his race or stood by as his kind threatened to obliterate every last human and hybrid on Earth. But the lines between good and bad have blurred, and love has become an emotion that could destroy her—could destroy them all.
Daemon will do anything to save those he loves, even if it means betrayal.
They must team with an unlikely enemy if there is any chance of surviving the invasion. But when it quickly becomes impossible to tell friend from foe, and the world is crumbling around them, they may lose everything— even what they cherish most—to ensure the survival of their friends…and mankind.
War has come to Earth. And no matter the outcome, the future will never be the same for those left standing.
---
REVIEW BY ALEXA
Saat aku sadar bahwa ini adalah buku terakhir dari seri ini, aku tiba-tiba punya dorongan irasional untuk 'save the best for last'. Yep, bisa dibilang aku menunda dan menghemat membaca buku yang aku tahu pasti bagus untuk 'saat-saat kegelapan' di saat mood baca memburuk.
Yeah seperti kusebut di 4 buku sebelumnya, seri ini mungkin tidak sempurna, tapi pasangan sama kuat Daemon Black dan Katy tidak pernah mengecewakanku. Dengan penggambaran karakter yang konsisten sampai buku terakhirnya, seri ini jelas jadi salah satu favoritku tahun ini. DB tetap dirty mind disegala suasana, nakal, arogan tapi juga protektif dan bisa dipercaya. Dia punya banyak flaw tapi bisa diandalkan dalam segala situasi.
Sejujurnya aku super sirik pada gadis yang bisa membuat Daemon bertekuk lutut. Katy banyak membuat kesalahan di buku-buku sebelumnya, tapi dia masih 17-18 tahun dan menurutku dia kuat dan badass untuk seumuran ini. Dia tangguh, cepat pulih dari kesalahannya dan berjuang untuk memperbaikinya. Di buku ini karakter Katy memegang peranan besar. Ada saatnya dimana dia lebih mampu menghandle situasi dengan kepala dingin saat Daemon tak bisa melakukan hal yang sama. Dan seperti serial Night Huntress, aku suka pasangan ini karena bisa memperkuat chemistry dan bonding hubungan di setiap buku mereka.
Untuk pertama kali dalam seri ini, buku ini ditulis dalam dual POV DB dan Katy srcara bergantian. Konflik terakhir buku ini epic dan walau masih seperti layaknya film disaster yang sering kau tonton di bioskop. Dimana sekelompok hero dan heroine mendapat bantuan pemerintah untuk membasmi si villain. Masalahnya Jen berhasil merangkai misteri yang menutupi siapa villain utama buku ini sampai 70 persen buku ini.
Alur cerita ini sedang cenderung cepat, plotnya seru dan menegangkan. Sampai 20 persen endingpun Jen masih tega-teganya menjaruhkan bom kejutan menegangkan, yang kalau mengingat hobinya di seri sebelumnya (characters killer) aku jadi cukup kuatir.
Ini adalah buku penutup yang seru dan bertaburan action menegangkan dari awal sampai akhir. Pasangan yang loveable, lucu, punya relationship super seksi dan intens dari sebuah seri adventure paranorm remaja. Seri ini mengubah pandanganku pada buku alien selamanya.  Epilognya masih membuka peluang adanya kisah baru di masa depan, who's know?
OVERALL RATING
SEX-O-METER