*** WARNING! This book is for ADULTS only or may be unsuitable for people under 21 years of age due to sexual content, graphic violence, and/or mature themes. Reader discretion is highly advised. If you are easily offended, then this book is not for you and please do not continue. ***
To Have and to Master by Sparrow Beckett
Series: Master Unleashed #3
Published: January 19th 2016 by InterMix
Language: English
Print Length: 237 pages
Genres: Contemporary, Romance, Erotica, BDSM
Target Reader: Adult
Ebook: Amazon US
Following Playing Hard to Master and Finding Master Right, Sparrow Beckett delivers a seductive tale of surrendered innocence with this third novel in the Masters Unleashed series.
Konstantin, a powerful Dominant, is used to fast living and wanton submissives. But after years of his grandmother haranguing him to marry, he agrees to meet a girl from her rural Russian village. Naturally submissive, Varushka turns out to be everything Konstantin wants in a woman.
At first her innocence is disturbing, but her enthusiasm for life captivates him. When their relationship becomes a mutual seduction, Konstantin introduces Varushka to wicked pleasures she never imagined. His attentive care wins her absolute devotion. However, when Varushka's father finds out about Konstantin's past, he whisks her back home to Russia.
Will Konstantin fight to reclaim her, or will his guilt convince him to relinquish the only woman he's ever loved?
---
REVIEW BY ELLE
Another surprise for me!! I've been waiting for Konstatin!! He's so… yum! Although honestly I didn't have a single imagination about what's he looks like but I know he's very handsome man. For me, he's like a real Dominant in their BDSM world. Not so much like Banner and Ambrose. I'm surprised I liked his story than his friends. Lmao!
Konstantin has to break-up BDSM relationship with his two girls because he's betrothed by an unknown Russian girl. He didn't know her at all beside from photo. He never think about married and babies because it scares him. Varushka just a common girl who got lucky to meet Konstantin through mutual friends; Konstantin's grandma. At first glance, Konstantin know she born as submissive and what's the worst is she's vanilla. Well, maybe for a while. But Konstantin never thought Varushka to be his wife + submissive.
Konstantin already fascinated me with his lifestyle. He has two submissive and didn't mind for polyamory relationship in this case. He enjoyed his lifestyle very well and some people mentioned he's quite a sadist. But when Varushka come into his life with her innocence, Konstantin couldn't hold himself. His mind already triggered with her submissive's act every time. But he never think that he will 'train' her in the future. Otherwise, Varushka is a girl from small town like a Cinderella. She got the Prince Charming and his kingdom. Actually, I like her better than Kate and Everly. But she has some weak point like her constant unsure to have sex before marriage. Yeah, she's very religious about it although she didn't hypocrite to have sex with Konstantin. I could feel her struggle. But Konstantin handled it very well. He didn't rush and go with the flow. He didn't want her to be guilt about it. Aw… (But he give her so many organs LOL)
Unfortunately, their BDSM relationship has small portion. Almost half of the book focused to build their chemistry before they went into BDSM. Of course, it's about trust and connection. They didn't know each other so it's very important. I loved how Konstantin handle her curiosity and she didn't freak out. They're so cute together! The minus is Konstantin seems softer than before. He's still strict about having control as her Dom but he never show his sadist side to consider her feeling. Their relationship seems fun until the end. It was sexy and romantic.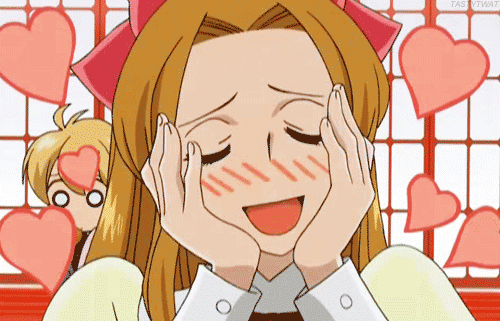 What I liked the most is the lake scene. It was burning HOT in so many levels. I really do love Konstantin's dirty talk. Although the drama that 'cause they break for a while didn't convince me so much, the solution was too easy. It didn't reach my expectation but at least they have happily every after. To Have and to Master is the best book so far. I enjoyed their moment together 😀
OVERALL RATING
SEX-O-METER