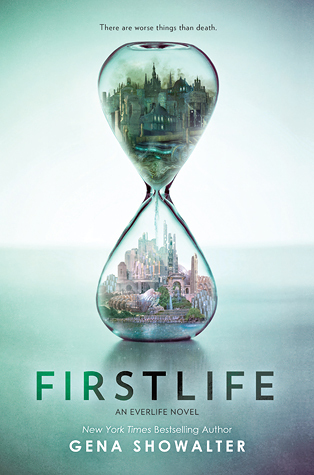 Firstlife by Gena Showalter
Series: Everlife #1
Publication Date: February 23rd 2016 by Harlequin Teen
Language: English
Print Length: 480 pages
Genres:  Fantasy, Romance
Target Reader: Young Adult
Ebook: Amazon US • B&N • Kobo • iBooks • Google Play
"Utterly unique and absolutely riveting—I couldn't put it down! What a marvelously cool world."—New York Times bestselling author Sarah J. Maas
From the author of the New York Times bestselling White Rabbit Chronicles series comes book 1 of a brand new series in which life as we know it is merely a dress rehearsal, and real life begins after death.
ONE CHOICE.
TWO REALMS.
NO SECOND CHANCE.
Tenley "Ten" Lockwood is an average seventeen-year-old girl…who has spent the past thirteen months locked inside the Prynne Asylum. The reason? Not her obsession with numbers, but her refusal to let her parents choose where she'll live—after she dies.
There is an eternal truth most of the world has come to accept: Firstlife is merely a dress rehearsal, and real life begins after death.
In the Everlife, two realms are in power: Troika and Myriad, longtime enemies and deadly rivals. Both will do anything to recruit Ten, including sending their top Laborers to lure her to their side. Soon, Ten finds herself on the run, caught in a wild tug-of-war between the two realms who will do anything to win the right to her soul. Who can she trust? And what if the realm she's drawn to isn't where the boy she's falling for lives? She just has to stay alive long enough to make a decision…
---
REVIEW BY ALEXA
"Fate is an excuse, a way to remove blame and therefore guilt for poor decision making. Free choice decides the outcome of life, not fate."
Siapa sih yang mau memikirkan kehidupan setelah kematian? Apalagi kalau umurmu belum mencapai 18 tahun? Tampaknya itu pula yang ada dalam pikiran Tenly "Ten" Lockwood saat kedua orang tuanya memaksanya untuk menandatangani kontrak sesuai realms mereka setelah Ten mati nanti. Apabila Ten menyeberang ke realms saingan, orang tuanya akan kehilangan smua hak-hak istimewa dan pencapaian mereka. Seperti remaja pada umumnya, Ten sulit membuat keputusan. Dia masih penuh pemberontakan. Ini yang membuat mereka tega memasukan Ten ke sebuah penjara anak-anak sampai dia menandatangani kontrak. Terdengar seperti peraturan "member get member" super ekstrim kan?
Kalau kau sudah pernah membaca buku-buku Gena sebelumnya mungkin kau akan kuatir (atau berharap, wink..) akan adanya aura nakal dan seksi dari buku ini. Tapi kujamin, walau ada scene ciuman kilat tapi dari awal sampai akhir Gena tetap berkomitmen di koridor YA sopan. Storyline kisah ini menarik walau kau pasti bisa meraba arahnya dari balik simbolis-simbolis yang Gena berikan. World buildingnya unik dan digambarkan seseru fraksi-fraksi the Divergent series, tapi deskripsinya sangat familiar.
Banyak istilah dan quote-quote juga mengingatkanku pada beberapa penggalan ayat kitab suci. Aku merasa ini seperti penggambaran versi dystopia cool dari Surga dan Neraka modern yang akan memikat kaum remaja. Konsep bahwa para "agen perekrut" dari ke-2 realms yang berperang sepanjang masa, mulai berperan aktif dengan tidak hanya menunggu jiwa-jiwa yang mati tapi terjun ke "Harvest Field" dan mencoba membujuk manusia-manusia (dengan segala cara, segigih debt collector) untuk mendaftar lebih awal jelas mengingatkanku pada kondisi rohani kita pada saat ini.
Gena memberikan kita tokoh Ten, seorang gadis 17 tahun yang bad-ass, sarkastik dan terobsesi pada angka. So far dalam narasinya, obsesi itu kelihatan membosankan dan random tapi kuharap di buku-buku selanjutnya ini akan berperan penting selain sebagai penambah halaman belaka. Penggambaran karakter awal Ten yang dingin, patah hati dan tidak mempercayai siapapun cukup menarik. Tapi saat Gena menjatuhkan cowok pertamanya, Killian. Eksotis, bertato, penuh misteri, aura bad boy, penampilan memukau, aksen Irlandia.. Yah kau tahu bagaimana skill Gena untuk menciptakan karakter hero yang dashyat.
Pertahanan Ten mulai goyah, dia mulai sering mengagumi dan defensif terhadap semua serangan terhadap karakter Killian di saat-saat tidak tepat. Beberapa keputusannya juga impulsif dan khas remaja. Walaupun Gena juga memberikan Archer sebagai saingan, tapi jelas ini bukan cinta segitiga karena untuk ukuran gadis yang sulit memutuskan realms, dia cukup mudah memilih cowok sejak awal.
Konflik novel ini berputar pada 2 hal: ancaman nyawa Ten karena tidak bisa memutuskan realms yang akan dia pilih, dan bagaimana Killian bisa membuktikan bahwa perhatiannya pada Ten bukan sekedar kegigihan pengumpul jiwa. Novel ini beralur cepat lambat sesuai scene dan penuh aksi pertempuran. Beberapa twist dan pengkhianatan lumayan menambah rollercoaster kisah ini. Seri ini jelas lebih kuat dan menarik daripada serial kontemnya, tapi aku masih berharap lebih dari buku kelanjutannya.
He presses his forehead against mine and cups my nape, his thumb stroking up, into my hair and down, under the collar of my shirt.
"I don't just want you," he says. "I want you."
"And I don't understand the difference," I tell him honestly. Even still, his admission makes me tingle.
"The first I can easily walk away from. The second…you make me feel—you make me feel."
OVERALL RATING