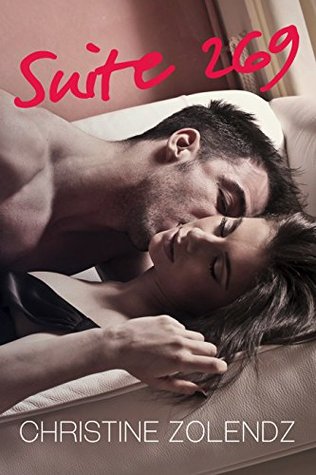 Suite 269 by Christine Zolendz
Series: Standalone
Publication Date: October 2nd 2015 by Self-published
Language: English
Print Length: 246 pages
Genres:  Contemporary Romance, Chick Lit, Erotica
Target Reader: Adult
Ebook: Amazon US
Leave your inhibitions at the door and make your fantasies come true.
Three weeks.
No rules.
Any fantasy.
Anything goes.
Lexa Novak would like nothing better than to let go and finally experience it all, so when the opportunity arises to just do that, she can't refuse—won't refuse.
But what happens when your fantasies become your realities?
Find out when you enter Suite 269.
---
REVIEW BY ELLE
This is my first Christine Zolendz and kinda a good read. I didn't expect Suite 269 would be light and kinda funny. I thought I will find gloomy and dark aura around it. That was my opinion because of the cover. LOL so don't judge the book by it's cover. So because some of my friends and my favorite bloggers reviewed this, I think I have to jump in, right?
Lexa Novak works as a fact checker at a (almost death)magazine corporation. Her future marriage has been ruined because her fiance cheated on her. Lexa is strong enough to moving on behind the sadness and disappointed on herself that cause her insecurity. Enter Jameson Holt who happen to be her boss. Apparently, the boss's girl is the one who cheated on her ex-future husband. Their first time exchange stories made them close. Close enough to make both of them wants each other.
So, what is suite 269? You should read it by yourself. Whoops! Not gonna spoil it. Their sexual tension is amazingly HOT. Their interaction is sizzling and ready to burn each other. I loved how they're together. I'm not gonna complaint about it. James makes her like the only woman in the world. Like the most beautiful woman. How could I resist this?
BUT… there are some issues just didn't work for me. Beside romantic relationship between Lexa and James, they're disappoint me in the outside of it. After so much and long story about their working environment, the conclusion didn't satisfy me enough. It was awkward and weird. Lexa isn't strong enough to push herself and especially, James. She's kinda weak in this aspect. I thought she's gonna be kickass heroine with her brilliant work ethic. And James, he's like a typical of male species. Handsome, alpha sexy male with good humor but it's doesn't enough for me. There is nothing special about him beside the appearance. Kinda okay guy.
The story itself somehow predictable and mediocre. I enjoyed the text humor between Lexa and James. It's cute and flirty. I have no doubt with their chemistry but for the end, it was too rushed. Lexa is too forgivable. Lack of development and no depth. Overall, Suite 269 is a quick read and enjoyable enough. I would love to recommend this for anyone who likes romantic comedy story. Very quick, light and entertaining.
OVERALL RATING
SEX-O-METER