*** WARNING! This book is for ADULTS only or may be unsuitable for people under 21 years of age due to sexual content, graphic violence, and/or mature themes. Reader discretion is highly advised. If you are easily offended, then this book is not for you and please do not continue. ***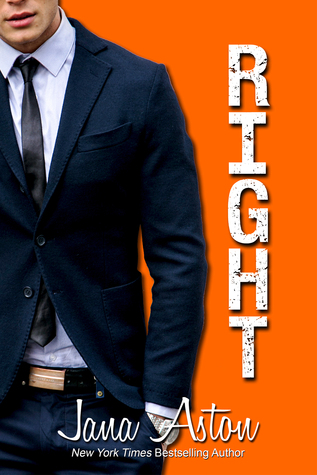 Right by Jana Aston
Series: Standalone
Published: April 6th 2016 by Self-published
Language: English
Print Length: 264 pages
Genres: Contemporary Romance, Erotica
Target Reader: New Adult
Ebook: Amazon US • Amazon UK • B&N • Kobo • iBooks
Paperback: Amazon US • Book Depository

My childhood was perfect.
I've led a charmed life, and I'm not going to blow it now by picking the wrong guy.
I've got my sights set on my brother's best friend.
He's known my family for years. He's reliable and kind and handsome.
Sure, he's been avoiding me since I was six.
I'm a bit aggressive for him, maybe.
But he's the one… right?
RIGHT is a standalone novel featuring Everly, who was first introduced in Wrong as the best friend. Both books were written as standalones and can be read without the other.
---
REVIEW BY ELLE
**MINOR OPINION ALERT!**
Whew… that's a low blow. I liked WRONG but not so much with RIGHT. The timeline was quite confusing at first. RIGHT told from Everly's POV (which is fine) but there are some flashbacks. I know somewhat Everly (Sophies's friend) will get her own book. In Wrong, I'm not really like her character. Spontaneous and no filter at all. Not my type of heroine. Yup, it seems everyone liked this book but not me.
✔ Everly way too aggressive and have stalker tendency. It's okay to lusting after your brother's friend since childhood. BUT her unhealthy obsession just go wild until she went to college. The same college where Finn Camden (her victim) goes. Creepy and no shame. She's really delusional.
✔ Obviously Finn is just trying to be nice with Everly since she's his best friend's sister. BUT there's a thing that bother me. I though Finn was a gay and like Everly's brother? LMAO! Sorry he's just not a man enough to say NO! So frustrated.
✔ INSTA-FUCKING-LUST! Apparently, Finn's brother; Sawyer is another stalker. He stalks Everly like everywhere even in social media. It was his excuse for get her attention. Furthermore, he send expensive gifts to woo her.
✔ Sex, sex and sex. Everly didn't really liked Sawyer except he's SUPER HOT, AMAZING IN BED and FILTHY RICH. Then, I didn't know what makes Everly in love with him? Their sex became less passionate. No chemistry whatsoever. Honestly, I enjoyed the chasing but it didn't make any senses after they're announced the relationship. Too rushed.
✔ I'm so done when the bomb dropped. It was unexpected and ruined everything. Sawyer just pulled himself from Everly and she's weeping like a normal woman. For a 35 years old man, he isn't mature enough. Furthermore, Everly's love feels so cliche! She just accept everything from Sawyer and didn't fight back? Yeah, right Sawyer is just sooooo 'perfect'.
If this book just a story without plot, well it's a win. Too freakin' long. Sex is sex. Insta-everything. A princess' story. Blah blah… TADAA!!! Happily every after!
OVERALL RATING
SEX-O-METER