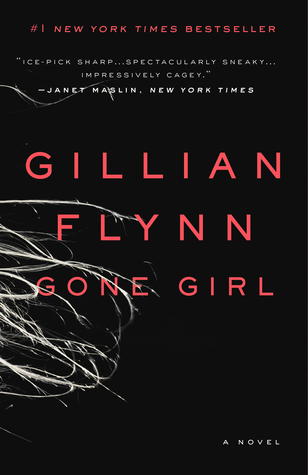 Gone Girl by Gillian Flynn
Series: Standalone
Published: April 22nd 2014 by Broadway Books
Language: English
Print Length: 442 pages
Genres: Mystery, Contemporary, Fiction
Target Reader: Adult
Ebook: Amazon US • B&N • Kobo • iBooks
Paperback: Amazon US • Book Depository • Periplus
THE #1 NEW YORK TIMES BESTSELLER
On a warm summer morning in North Carthage, Missouri, it is Nick and Amy Dunne's fifth wedding anniversary. Presents are being wrapped and reservations are being made when Nick's clever and beautiful wife disappears. Husband-of-the-Year Nick isn't doing himself any favors with cringe-worthy daydreams about the slope and shape of his wife's head, but passages from Amy's diary reveal the alpha-girl perfectionist could have put anyone dangerously on edge. Under mounting pressure from the police and the media—as well as Amy's fiercely doting parents—the town golden boy parades an endless series of lies, deceits, and inappropriate behavior. Nick is oddly evasive, and he's definitely bitter—but is he really a killer?
---
REVIEW BY ALEXA
Apa yang akan seorang pria hadapi saat dia merusak kebahagiaan seorang wanita sempurna? Histeria? Teror? Ancaman? Bukan itu yang di hadapi Nick. Dia adalah seorang mantan jurnalis tampan yang dalam kondisi paling terpuruk dalam hidupnya, mengambil jalan keliru dengan berselingkuh dari istrinya yang perfeksionis. Istrinya Amy, membalas perlakuan tak setia suaminya dengan hadiah perayaan ulang tahun perkawinan paling tak terlupakan. Ancaman hukuman mati!
Well ini adalah salah satu buku hebat dengan alur complicated yang sangat sulit di review tanpa spoiler. Tapi aku akan berusaha karena aku ingin kamu mengalami pengalaman yang sama denganku. Ketegangan dan rasa penasaran yang sama saat membalik halaman-halaman buku ini. Ini adalah salah satu buku yang membuatku terpukau pada narasi dan kekuatan dari sederhananya sebuah storyline yang di garap mendetail penuh intrik.
Mulai dari bagaimana Nick dan Amy membuka tiap lapisan perkembangan hubungan dan kehidupan susah senang mereka, bagaimana rollercoster emosi yang mereka hadapi. Semua dapat kita ikuti dari dual POV orang pertama secara bergantian. Sampai dengan bagaimana mereka saling adu strategi dan memanipulasi pasangannya dalam perang tanpa akhir dalam pernikahan mereka yang tampak sempurna. Alurnya yang maju mundur antara flashback dan masa kini memaksamu untuk berkonsentrasi penuh.
Buku ini jelas membuat perasaanku campur aduk. Jujur buku ini membuatku menyukai, kagum sekaligus benci pada kedua karakter utamanya. Ending yang tidak biasa tentu saja di luar dugaan. Tapi ini mungkin hal paling realistis yang coba di gambarkan penulis tentang pasangan sama kuat yang saling melengkapi, sempurna bagi satu sama lain.
VIEW THE MOVIE TRAILER HERE (October 3rd 2014):
OVERALL RATING