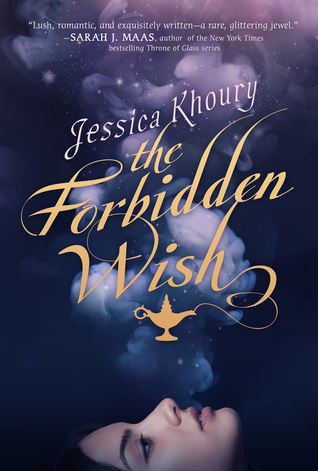 The Forbidden Wish by Jessica Khoury
Series: Standalone
Published: February 23rd 2016 by Razorbill
Language: English
Print Length: 352 pages
Genres: Fantasy, Retellings, Romance
Target Reader: Young Adult
Ebook: Amazon US • B&N • Kobo • iBooks
Hardcover: Periplus
She is the most powerful Jinni of all. He is a boy from the streets. Their love will shake the world…
When Aladdin discovers Zahra's jinni lamp, Zahra is thrust back into a world she hasn't seen in hundreds of years—a world where magic is forbidden and Zahra's very existence is illegal. She must disguise herself to stay alive, using ancient shape-shifting magic, until her new master has selected his three wishes.
But when the King of the Jinn offers Zahra a chance to be free of her lamp forever, she seizes the opportunity—only to discover she is falling in love with Aladdin. When saving herself means betraying him, Zahra must decide once and for all: is winning her freedom worth losing her heart?
As time unravels and her enemies close in, Zahra finds herself suspended between danger and desire in this dazzling retelling of Aladdin from acclaimed author Jessica Khoury.
---
REVIEW BY ALEXA
"I have no form, I have no name. I am the Slave of the Lamp, and your will is my will. Your wishes are my commands." Zahra
Apakah kamu suka kisah 1001 malam? Setting eksotis kota padang pasir? Kisah Aladdin dan Lampu ajaibnya? Kalau iya, kamu pasti penasaran ingin membaca kisah ini, retelling kisah Aladdin dari sisi si gadis Jin, Zahra. Selain digambarkan didera rasa bersalah yang bertubi-tubi, Zahra juga adalah jin terkuat yang disebut dalam sejarah dan kisah legenda kuno. Dia misterius, kuat, dingin, manipulatif dan juga cerdas. Aku tak yakin dengan deskripsi terkuat ini karena di sepanjang buku dia hanya memberikan tampilan sihir ala jin yang sudah kuketahui. Atau mungkin karena dia termasuk jenis jin yang langka?
POV orang pertama Zahra terasa puitis dan indah tapi juga lambat, repetitif dan super deskriptif. Kau akan bisa melihat dan merasakan bagaimana bentuk taman permata terindah di dunia, suasana gurun, rasanya terkurung dalam botol, indahnya pakaian dan istana para Sultan, kemegahan sihir para Jin dari narasi buku ini. Itu membuatku tersendat di sekitar 50 persen buku.
Jessica Khoury juga memberikan karakter hero pada Aladdin si pencuri yang digambarkan cerdas tapi super serampangan, charming dan bisa sangat menawan kalau berusaha. Aku suka bagaimana penulis mengembangkan background kisah keluarga pencuri ini lebih dalam dari sekedar romance beda dunia.
"And what do you know of love?"
"That it must be a choice."
"Oh, my naive thief. " I pause briefly to meet his gaze. "Love is rarely a choice."
Romance mereka berdua nyaris tidak terasa sampai di pertengahan buku. Aku menyukai proses bagaimana kepercayaan dan loyalitas Zahra mulai terbentuk dari tindakan-tindakan tulus kecil yang dilakukan Aladdin untuknya. Momen romantisme mereka walaupun sedikit tapi sarat emosi. Aku menyukai bagaimana Zahra memilih untuk tidak memanipulasi permohonan-permohonan Aladdin, berlawanan dengan naluri alaminya.
"Cruelty, I understand. But kindness frightens me, for my defenses are weak against it. "~Zahra
Benang merah utama kisah ini sebenarnya bisa kita temukan dibanyak film/buku romance. Bagaimana seorang membantu temannya berusaha mendapatkan seorang gadis pujaan tapi berakhir dengan menyadari cinta juga tumbuh dalam dirinya. Tapi Jessica membalut formula lama ini dengan setting memukau, taburan intrik kerajaan penuh konspirasi, dendam, dan pesan moral girl power. Dia juga memberikan ending penuh twist yang cukup bisa diprediksi dari awal tapi tetap membuat penasaran tentang bagaimana "caranya" ending itu tercapai.
OVERALL RATING