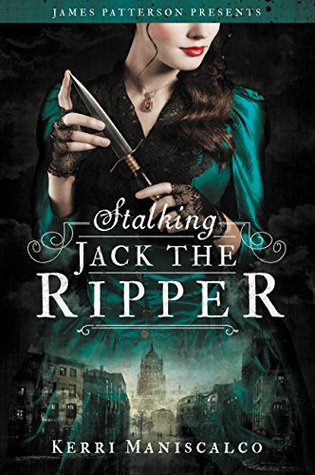 Stalking Jack the Ripper by Kerri Maniscalco
Series: Stalking Jack the Ripper #1
Published: September 20th 2016 by jimmy patterson
Language: English
Print Length: 336 pages
Genres: Fantasy, Historical Fiction, Mystery
Target Reader: Young Adult
Ebook: Amazon US • B&N • iBooks

A #1 New York Times Bestseller!
Presented by James Patterson's new children's imprint, this deliciously creepy horror novel has a storyline inspired by the Ripper murders and an unexpected, blood-chilling conclusion…
Seventeen-year-old Audrey Rose Wadsworth was born a lord's daughter, with a life of wealth and privilege stretched out before her. But between the social teas and silk dress fittings, she leads a forbidden secret life.
Against her stern father's wishes and society's expectations, Audrey often slips away to her uncle's laboratory to study the gruesome practice of forensic medicine. When her work on a string of savagely killed corpses drags Audrey into the investigation of a serial murderer, her search for answers brings her close to her own sheltered world.
The story's shocking twists and turns, augmented with real, sinister period photos, will make this dazzling, #1 New York Times bestselling debut from author Kerri Maniscalco impossible to forget.
---
REVIEW BY ALEXA
Saat gadis-gadis lain menyukai gosip dan acara minun teh, Lady Audrey Rose Wadsworth lebih berminat kerja magang di institut forensik milik pamannya. Saat kota mereka di kejutkan dengan pembunuhan berantai distrik kumuh Whitechapel, Audrey menemukan beberapa kaitan antara para korban dengan arsip rumah tangganya. Dengan bantuan Thomas, murid tercerdas sekaligus paling arogan pamannya, Audrey berusaha menguak petunjuk siapakah pembunuh sadis itu.
Novel YA ini mengambil setting London era Victorian tahun 1888. Timeline yang diangkat hanya 1.5 bulan masa penyelidikan kasus pembunuhan berantai The Leather Apron yang kemudian terkenal dengan nama Jack the Ripper. Selain fakta itu, istilah dan prosedur otopsi, serta beberapa nama korban pembunuhan yang di sebut di sini, semua nama dan hal lain dari novel ini adalah fiksi.
Secara karakter aku suka dengan Audrey yang berani tampil beda pada masa itu. Dia tetap lady yang anggun tapi ingin memperdalam keahliannya di luar sulam menyulam dan kegiatan kewanitaan lainnya. Interaksi dengan Thomas sebenarnya berpotensi, tetapi interaksi romantis mereka yang lelet dan jarang membuat chemistry mereka agak susah dipercaya.
Karakter pendukung lain seperti kakak lelaki Audrey yang super charming, paman dokter yang sangat cerdas tapi judes, ayah protektif yang patah hati, dan beberapa list terdakwa juga menebar petunjuk menyesatkan dan menambah aura misterius. Setiap pihak tampak mencurigakan walau motif pembunuhannya tampak random. Alur novel ini lambat, tapi narasinya intens dan mencekam. Proses forensik dan deskripsi gore para korban pembunuhan di gambarkan mendetail, jadi pastikan jantung dan perutmu kuat untuk membacanya.
Hal yang agak mengecewakan di sini adalah :
 Judulnya agak tak sesuai ya karena proses stalking itu hanya terjadi 1x di akhir buku dan itupun bukan pembunuh sebenarnya.
Proses penyelidikan kasus terasa minimalis, banyak detail-detail dan scene tak material yang bisa dihapus tanpa merusak cerita.
Terungkapnya siapa "Jack the Ripper" versi novel ini terjadi secara tidak sengaja dan bukan hasil penyelidikan yahud ala serial CSI.
Twist akhirnya maksa banget dan penyelesaian masalah agak aneh, tapi lumayan tak terduga.
Endingnya manis tapi unsur romantis yang mulai tercium dipenggal tanpa penyelesaian lebih lanjut. Apakah di simpan untuk buku berikutnya?
OVERALL RATING